Blanket Weed under the Microscope
Personally I use a concentrated liquid form of Barley Straw Extract at the
beginning
of the year to try and
combat the worst of the blanket weed
(although this liquid form can be expensive).
Barley straw
is a more natural method of combating the blasted weed, but even at the start of the year before the various enzymes and bacteria start doing their work
blanket weed
can build up quite quickly in the pond.
In a
stream
you tend to get it all year long, simply because the water is shallow, and the sunlight has the most impact, therefore it has to be removed by hand regularly.
Like so many people, in the past I tried using
chemical based
products and solutions to treat blanket weed, but the main trouble with these is they just breakdown the structure of the blanket weed making it
slippery and slimey
and
even more difficult to remove
from the pond.
I prefer to let the weed grow to a suitable length, then use a cane stick to dip into the water and "twizzle" it in the blanket weed which quite easily attaches itself and wraps around the cane.
I just keep twizzling to "wind" in all the weed, which eventually breaks off leaving only short lengths attached to the pond sides and bottom.
After a bit of twizzling I then use a sharp Stanley knife to cut the blanket weed away from the cane. A twizzled lump of blanket weed is really very tough stuff and won't easily pull off the cane.
This cane method just isn't possible if you use chemicals to break down blanket weed.
Another alternative which I use is my pond hoover, but generally I use that to clean excess sediment, leaves etc from the bottom of the pond.
After physically removing as much as possible, I then give another good dose of barley straw.
After this first major growth in the spring, the pond balance and enzymes seem to get the upper hand and the blanket weed is much less of a problem for the remainder of the year.
Since building my DIY
bio-filter
I have
never
had a problem with green water.
Yes, blanket weed sometimes at the start of the year, but
never green water
all year long.
If this is your first year with a new pond, do not be surprised if you get a couple of green water
blooms
a couple of weeks or months apart as the pond and bio-filter all establish their equilibrium. Large pond plants are good additions but they need time to grow and then they will use excess nitrates (essentially fertiliser) produced by the bacteria life cycle in your pond, so starving
phytoplankton
of nitrates (they are the little blighters who actually make the water go green).
Did you know that
phytoplankton
is generally always there in your pond during the summer? It is simply
"photosynthesis"
caused by sunlight which makes them turn green, and when they multiply in their thousands and millions because of too much nitrate (think fertiliser), this is what causes your pond water to become green pea soup.
During
daylight
these microscopic plant-cum-animals
absorb carbon dioxide and give out oxygen
- good for your fish - but
at night the reverse happens
, and they take in oxygen, and give out carbon dioxide. This is when your fish can suffocate if you have a really bad green water problem!!!
Now to finish off you really should marvel at the beauty and mechanics of these tiny creatures.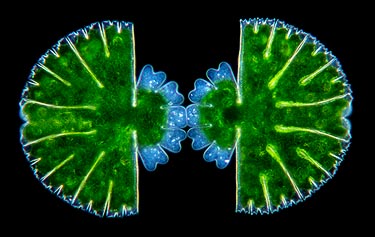 Picture copyright © Wim van Egmond -
www.micropolitan.org
Take a look at the
Microscopy UK's
wonderful
"Smallest Page on the Net"
You will find some amazing micro-photography and learn a lot about what algae really is.
Absolutely fascinating!
Labels: algae, barley straw, blanket weed, green water, phytoplankton