Gravel coated uPVC / Butyl pond liner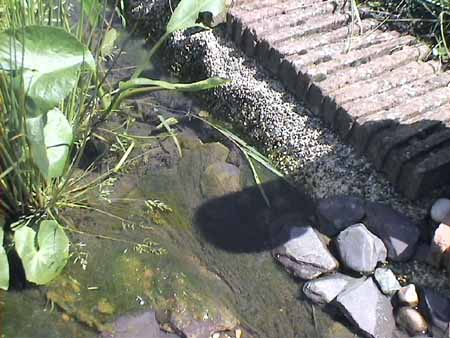 Today someone emailed me asking where they could get the
gravel coated uPVC pond liner
that I use in my ponds stream. When I originally got this for my stream I had found some at my local garden centre, but I must admit that I have not seen it for quite a while now. So when I was asked about it I made it my mission to locate it again!
A quick Google search and a few web sites later I have found it. Not very easy to find, but I first came across this
stone gravel lined pond liner
in the
Oase Living Water
site, which is a German company. A bit more digging and I then found the UK section of the
Oase
web site.
Anyway, you can find more details about the
Stone Liner
as it is called, and links to the correct section in the Oase web site, on my
Build a Stream
page.
Oase do 3 sizes of this pond liner, and say....
Stone liner
The perfect solution for edging of lined ponds or also for installing a watercourse.
The 0.5 mm thick, black PVC liner is treated with a coating of fine pebbles via a special technical process.

Ideal for the natural transition from pond to garden.

We always recommend using normal pond liner under the stone liner, and fixing the edges with pond liner adhesive.
Hope that helps someone!
Cheers
Jim
Labels: pond liner, pond stream